Art Shanty Projects fosters construction of artist driven temporary communities that explore the ways in which relatively unregulated public spaces can be used to create new and challenging artistic environments.
Our On-Ice Program, held annually on a frozen lake in Minnesota, provides a unique opportunity for artists and performers to interact with audiences in an unintimidating, non-gallery setting.
Art Shanty Projects Benefit at Fulton Brewery to Keep Y(O)ur Shanties On

On February 28, 2015, Art Shanty Projects can be found at the Fulton in North East—the heart of  Minneapolis' Arts District. The Board of Directors is throwing a 'Keep (Y)Our Shanties On' benefit to keep our shanties on ice.The evening promises to be filled with entertainment by local musicians, special appearances by former shanty artists, raffle opportunities, food and beverage sales—all to benefit the organization.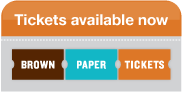 Place: Fulton Brewery, 2540-2nd St. NE, Minneapolis    Time: 5pm-9pm

Price: $15 pre-sale / $20 at  door      
Includes: Admission & 1 free drink